The High-Performance USB Company

Edgeport

Step by Step Easy Installation

---

To Install the Edgeport drivers for Microsoft Windows NT4.0

please note: these instructions apply for Edgeport Driver Version 1.09 or later.

Insert the driver disk included with the Edgeport into your floppy drive (A:).

Click on the START menu and choose RUN.

Browse for files on A: and choose the driver file.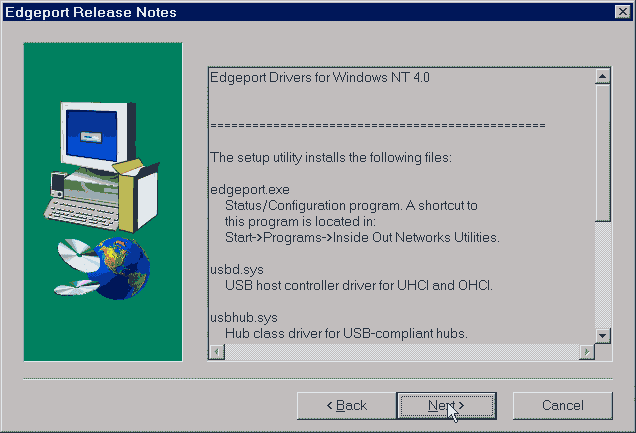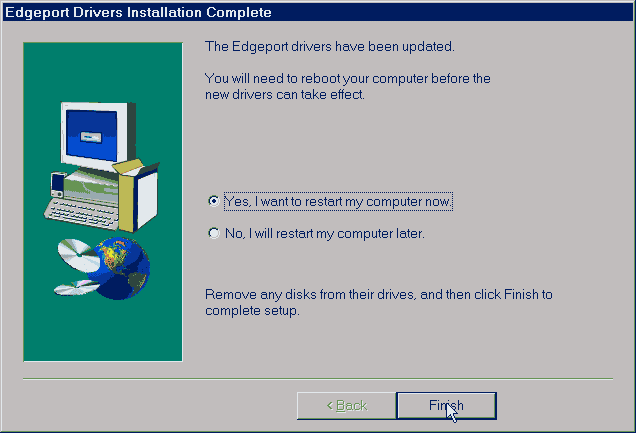 The Edgeport Installation is complete!

You will now need to configure the Ports as you would for a standard COM port:-

When the Edgeport (/4 shown) is connected you will see the new (Edge)ports as COM5, 6, 7 and 8 (COM3 and 4 are reserved by NT4.0). Set the port settings as you would for COM1 or COM 2 by clicking on the Settings button.

Don't worry they will come back as soon as you plug the Edgeport back in!

---

To Install the Edgeport drivers for Microsoft Win95 or Win98

please note: these instructions apply for Edgeport Driver Version 1.14 or later.

Insert the driver disk included with the Edgeport into your floppy drive (A:).

Click on the START menu and choose RUN.

Browse for files on A: and choose the driver file for Win95 or Win98. (Windows 95 must be OSR2, OSR1 (early versions) do not support USB. (Win98 driver shown).

Click OK,

The installation will now complete!

You will now need to configure the Ports as you would for a standard COM port:-

Open the Control Panel and click on the SYSTEM icon.

You will need to click on the Properties button and configure the new ports in exactly the same way as you would for COM1 and COM2. If you disconnect the Edgeport the screen will update and the new ports will disappear but don't worry when you plug it back in they will re-appear again.

---

Note: This is only a guide to the installation as it may vary with driver revisions, for improvement of the installation process, but if you find this guide defective in any way please let us know and we will do our best to make sure it is as accurate as possible.

Applications
© Copyright 2004 Ridge Technologies Pty Ltd