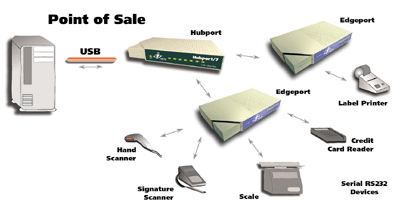 The EdgeportTM is an intelligent, stackable expansion module that connects to a POS PC via the Universal Serial Bus (USB) port, providing two, four,or eight high-speed RS-232 serial ports.
No hassle installation in three minutes.
Eliminate configuration issues associated with last generation card solutions (no PC slots required) and no IRQ conflicts.
Avoid powring down the system and opening the chassis.